AUMENTE SU VISIBILIDAD Y LA CANTIDAD
DE LAS RESERVAS DE SUS ALQUILERES DE VACACIONES EN
TODO EL MUNDO
Genere más reservas para su alquiler de vacaciones utilizando la plataforma de distribución global de BookingPal
CONOZCA MÁS
Call us today to get started!
¿QUÉ ES BOOKINGPAL?
BookingPal le permite distribuir fácilmente sus propiedades a través de los canales líderes de nuestros socios y acceda a millones de turistas que buscan reservar un alquiler de vacaciones en línea.
PERSONALICE
SUSCANALES DE
DISTRIBUCIÓN
ALCANCE MÁS
HUÉSPEDES
AHORRE TIEMPO
¿CÓMO FUNCIONA BOOKINGPAL?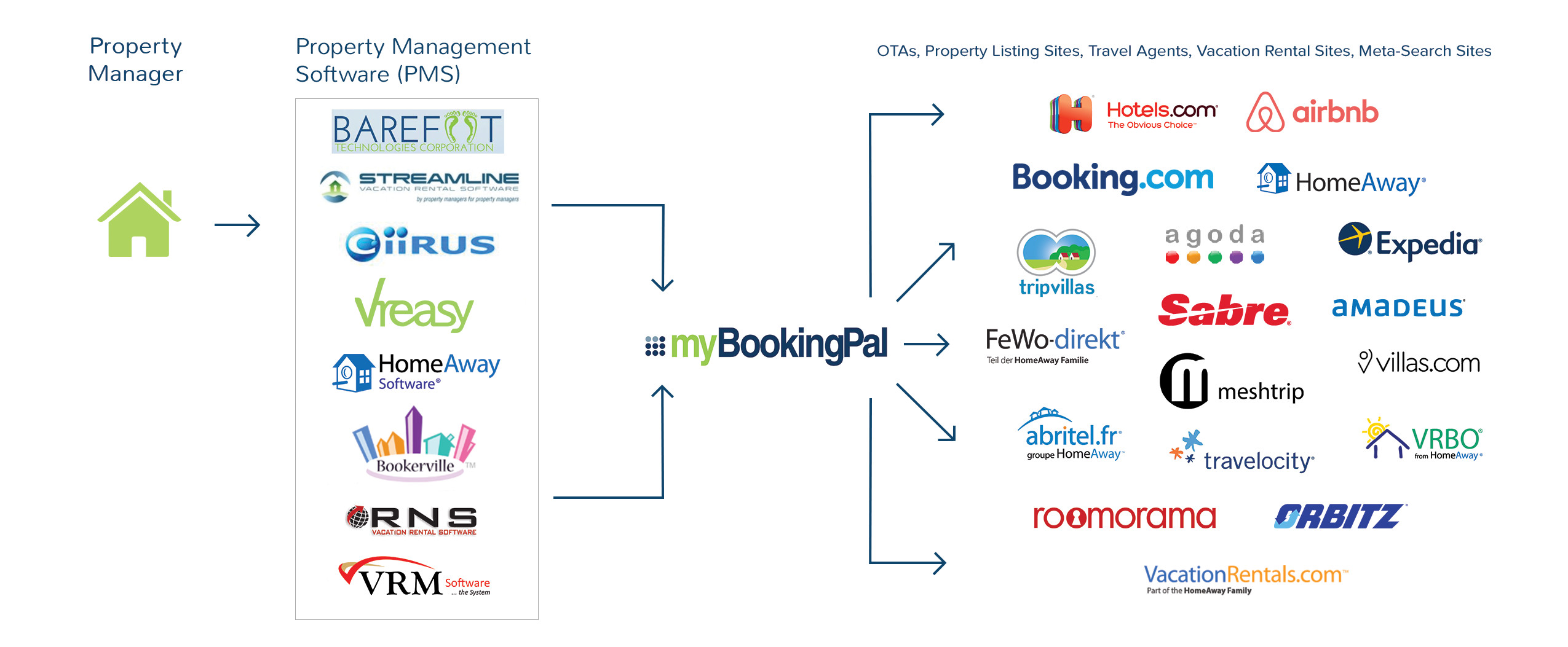 ¿CÓMO FUNCIONA BOOKINGPAL?

Use your existing property management system (PMS) to automatically upload your property information.

We will post bookings directly into your PMS and handle the financial transactions for you.

More exposure = More Bookings
Select the channels you want to be displayed on based on the commisison you want to pay.

Your properties are now in front of millions of travelers. Let the revenue pour in.

We will distribute and synchronize your availability calender and rates

ACCEDA A MÁS DE 100 CANALES DE
DISTRIBUCIÓN
OTAs (Alianza de Viajes Abiertos)
SITIOS DE ALQUILERES DE VACACIONES
LISTADO DE SITIOS DE PROPIEDADES
META-BÚSQUEDA
AGENTES DE VIAJES
CONOZCA MÁS
PRECIOS
Sin tarifa mensual o un acuerdo de pago requerido. Usted sólo paga una pequeña comisión de éxito por cada reserva generada.
Personalice sus canales de distribución en función de la comisión que usted quisiera pagar.
Los administradores de propiedades tienen la opción de decidir si quieren ser el intermediario o dejar que los canales sean el intermediario.
Gestionamos las transacciones financieras por usted.
CONOZCA MÁS
MERCADOS DE ALQUILERES DE VACACIONES
BookingPal trabaja para la industria de alquileres de vacaciones en la distribución de casas de vacaciones, parques para RV, campamentos, y alquileres a corto plazo, en todo el mundo. Esto permite que páginas web de viajes en línea, agencias de viajes y sitios web de bienes raíces accedan convenientemente y reserven alquileres de vacaciones, incrementando los ingresos para los administradores y dueños de propiedades.
ACCESO A CIENTOS DE MILES DE PROPIEDADES DE ALQUILER
DE VACACIONES EN TODO EL MUNDO EN MÁS DE 100 PAÍSES
Un Listado de más de 255.000
propiedades en todo el mundo
BUSCAR UBICACIONES
Algunos de nuestros
ADMINISTRADORES
DE LA PROPIEDAD
MARAVILLADOS
James Woolley

"BookingPal is a fundamental part of the success that we have enjoyed over the past 18 months. As the first port of call for all enquiries, BookingPal has grown our agency business exponentially, by providing instant access to availability, rates, and details for a large part of our stock offering. I am more than happy to give BookingPal a 110% thumbs up, and I hope to see many more agents and owners/managers on the system in the near future."

Come to Cape Town

Ray and Max

"Resort Homes Florida is very excited to be able to list all of our properties on various high preforming booking sites such as AirBnB, Expedia and Booking.com. This increased visibility has generated significantly more bookings for us worldwide. myBookingPal automatically updates availability calendars, property level information, takes care of payment processing, and feeds real time rates to all of their selected distribution channels making our job so much easier!"

Resort Homes Florida

Lori L. Berry

"Booking Pal is our much needed portal to millions of people looking for vacation rentals. Our revenue has increased 20% since working with BookingPal. They offer a direct link into our system for guests booking thru 3rd party booking sites which provides the guest with the latest room and rate information. It also saves us time and money by not having to update inventory on a daily basis. We recommend BookingPal to any management company that is looking to increase revenue and save time."

El Matador Management Company
NOS APASIONA
LO QUE HACEMOS
Regístrese para obtener un demo gratuito de 10 minutos y averigüe cómo puede generar más reservas con BookingPal