AUMENTA LA VISIBILITÀ DELL'AFFITTO PER
LE VACANZE E LE PRENOTAZIONI NEL
MONDO
Genera più prenotazioni utilizzando la piattaforma di distribuzione globale leader per gli affitti vacanzieri di BookingPal
ULTERIORI INFORMAZIONI
Call us today to get started!
COS'È BOOKINGPAL?
BookingPal ti permette di distribuire facilmente le tue proprietà attraverso i canali dei nostri partner per accedere a milioni di vacanzieri alla ricerca di un affitto online.
PERSONALIZZA
I TUOI CANALI DI
DISTRIBUZIONE
RAGGIUNGI PIÙ
OSPITI
RISPARMIA TEMPO
COME FUNZIONA BOOKINGPAL?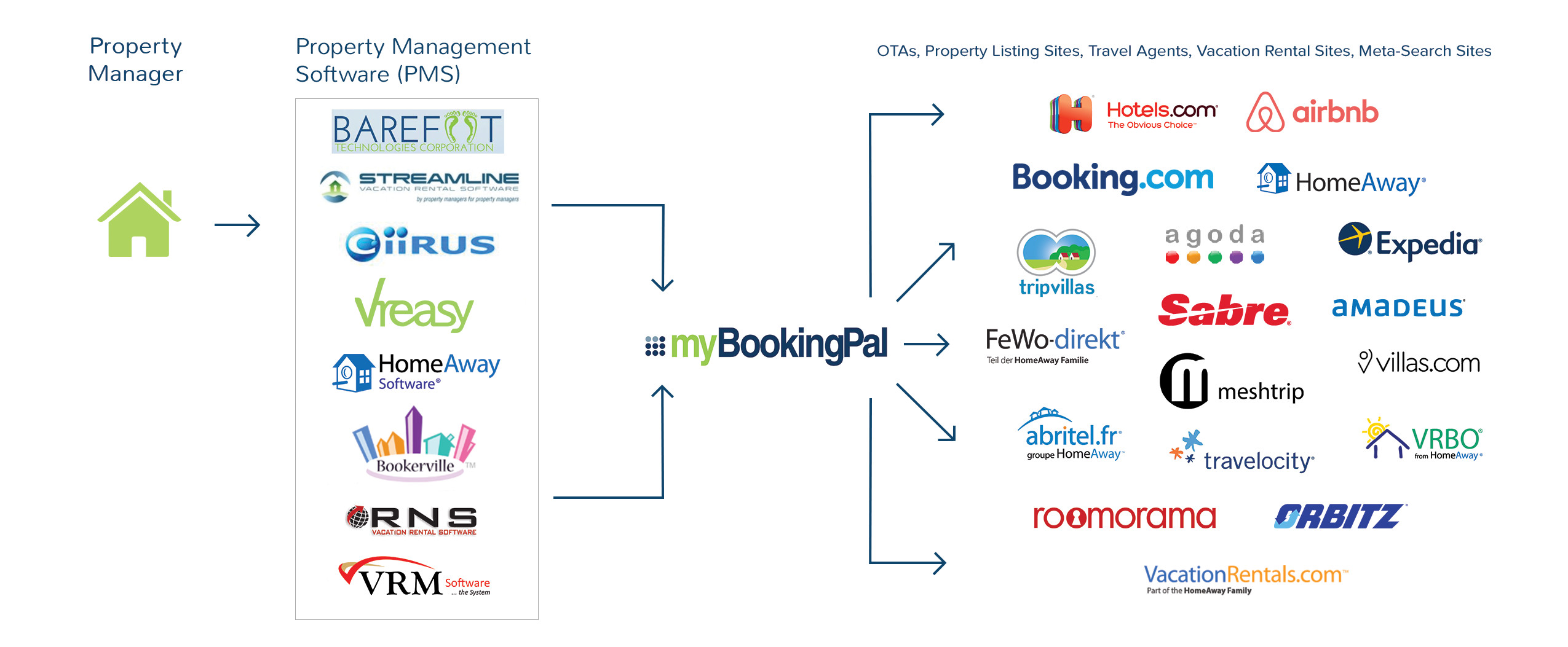 COME FUNZIONA BOOKINGPAL?

Use your existing property management system (PMS) to automatically upload your property information.

We will post bookings directly into your PMS and handle the financial transactions for you.

More exposure = More Bookings
Select the channels you want to be displayed on based on the commisison you want to pay.

Your properties are now in front of millions of travelers. Let the revenue pour in.

We will distribute and synchronize your availability calender and rates

ACCEDI A PIÙ DI 100 CANALI DI DISTRIBUZIONE
OTA
SITI PER GLI AFFITTI VACANZIERI
SITI PER GLI ELENCHI DELLE PROPRIETÀ
META-RICERCA
AGENTI DI VIAGGIO
ULTERIORI INFORMAZIONI
PREZZI
Nessuna tariffa mensile richiesta. Paghi solo una piccola commissione di successo per ogni prenotazione generata.
Personalizza i tuoi canali di distribuzione in base alla commissione che vorresti pagare.
I gestori della proprietà hanno l'opzione di decidere se vogliono essere i responsabili della transazione oppure preferiscono che l'incarico sia dei canali.
Gestiamo le transazioni finanziarie per te.
ULTERIORI INFORMAZIONI
MERCATI PER GLI AFFITTI VACANZIERI
BookingPal si occupa del settore dell'affitto vacanziero distribuendo case per le vacanze, parchi RV, campeggi, ed affitti per brevi periodi in tutto il mondo. Questo permette ai siti per viaggi, alle agenzie del settore e ai siti per gli immobili di accedere convenientemente e prenotare gli affitti vacanzieri, e di aumentare le entrare per i gestori delle proprietà ed i proprietari.
ACCEDI A CENTINAIA DI MIGLIAIA DI PROPRIETÀ PER L'AFFITTO
VACANZIERO NEL MONDO IN OLTRE 100 PAESI
Elenchi di più di 255.000
proprietà nel mondo
NAVIGA LUOGHI
Alcuni dei nostri
OTTIMI
GESTORI DI
PROPRIETÀ
James Woolley

"BookingPal is a fundamental part of the success that we have enjoyed over the past 18 months. As the first port of call for all enquiries, BookingPal has grown our agency business exponentially, by providing instant access to availability, rates, and details for a large part of our stock offering. I am more than happy to give BookingPal a 110% thumbs up, and I hope to see many more agents and owners/managers on the system in the near future."

Come to Cape Town

Ray and Max

"Resort Homes Florida is very excited to be able to list all of our properties on various high preforming booking sites such as AirBnB, Expedia and Booking.com. This increased visibility has generated significantly more bookings for us worldwide. myBookingPal automatically updates availability calendars, property level information, takes care of payment processing, and feeds real time rates to all of their selected distribution channels making our job so much easier!"

Resort Homes Florida

Lori L. Berry

"Booking Pal is our much needed portal to millions of people looking for vacation rentals. Our revenue has increased 20% since working with BookingPal. They offer a direct link into our system for guests booking thru 3rd party booking sites which provides the guest with the latest room and rate information. It also saves us time and money by not having to update inventory on a daily basis. We recommend BookingPal to any management company that is looking to increase revenue and save time."

El Matador Management Company
SIAMO APPOSSIONATI
PER CIÒ CHE FACCIAMO
Registrati per una demo gratuita da 10 minuti per scoprire come puoi generare più prenotazioni con BookingPal