Erweitern Sie Ihre weltweite Verfügbarkeit und Buchungen für Ferienimmobilien
Generieren Sie mehr Buchungen durch den Einsatz von BookingPal's führender Plattform für globale Ferienanmietungen
ERFAHREN SIE MEHR
Call us today to get started!
WAS IST BOOKINGPAL?
BookingPal erlaubt es Ihnen einfach die eigenen Immobilien zu vertreiben; durch unsere führen Vertriebswege. Erreichen Sie Millionen von Urlaubern, die online auf der Suche nach Ferienwohnungen zum mieten sind.
PASSEN SIE IHRE VERTRIEBSWEGE AN
MEHR GÄSTE ERREICHEN
ZEIT SPAREN
WIE FUNKTIONIERT BOOKINGPAL?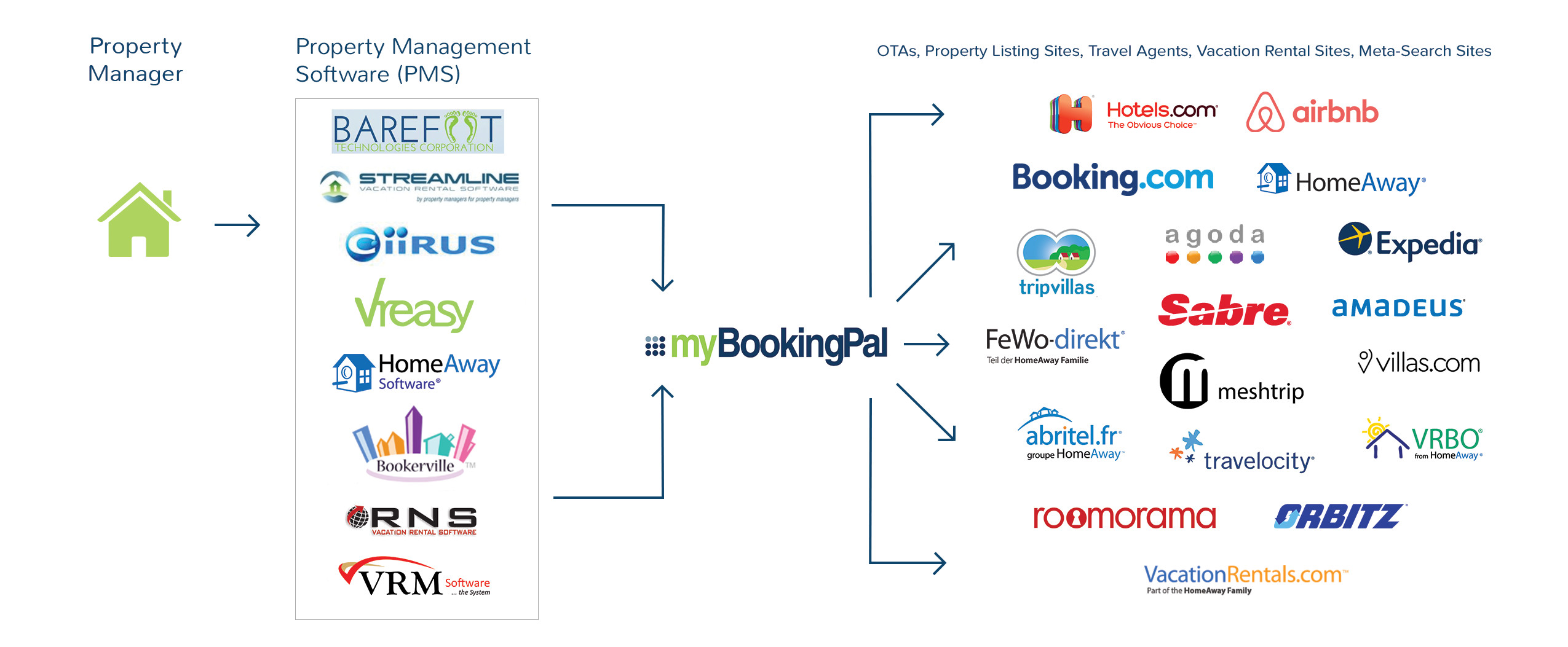 WIE FUNKTIONIERT BOOKINGPAL?

Use your existing property management system (PMS) to automatically upload your property information.

We will post bookings directly into your PMS and handle the financial transactions for you.

More exposure = More Bookings
Select the channels you want to be displayed on based on the commisison you want to pay.

Your properties are now in front of millions of travelers. Let the revenue pour in.

We will distribute and synchronize your availability calender and rates

PREISE
Keine monatlichen Einrichtungsgebühren oder Bedienkosten. Sie zahlen ausschließlich eine kleine Erfolgs-Provision, für jede generierte Buchung.
Passen Sie Ihre Vertriebswege an die Provision an, die Sie zahlen möchten.
Verwalter haben die Option zu entscheiden, ob sie selbst als Vertragspartner auftreten möchten oder dies den Vertriebspartnern überlassen.
Wir handhaben Ihre finanziellen Transaktionen.
ERFAHREN SIE MEHR
MARKT FÜR FERIENIMMOBILIEN
BookingPal bedient die Ferien-Vermietungs- Industrie, indem Ferienhäuser und -wohnungen, RV Anlagen, Camping-Plätze und kurz-zeit Vermietungen weltweit angeboten werden. Dies erlaubt allen online Reiseseiten, Reisebüros und Immobilienseiten schnell und einfach auf Ferienvermietungen zuzugreifen und dieser zu buchen. Ergebnis ist ein gesteigerter Umsatz für Verwalter und Besitzer.
GREIFEN SIE AUF HUNDERTE VON TAUSENDEN
FERIENVERMIETUNGEN ZU – WELTWEIT UND IN ÜBER 100 LÄNDERN
255,000+ aufgeführte
Immobilien weltweit
ORTE DURCHSUCHEN
Einige
UNSERER
BEGEISTERTEN
VERWALTER
James Woolley

"BookingPal is a fundamental part of the success that we have enjoyed over the past 18 months. As the first port of call for all enquiries, BookingPal has grown our agency business exponentially, by providing instant access to availability, rates, and details for a large part of our stock offering. I am more than happy to give BookingPal a 110% thumbs up, and I hope to see many more agents and owners/managers on the system in the near future."

Come to Cape Town

Ray and Max

"Resort Homes Florida is very excited to be able to list all of our properties on various high preforming booking sites such as AirBnB, Expedia and Booking.com. This increased visibility has generated significantly more bookings for us worldwide. myBookingPal automatically updates availability calendars, property level information, takes care of payment processing, and feeds real time rates to all of their selected distribution channels making our job so much easier!"

Resort Homes Florida

Lori L. Berry

"Booking Pal is our much needed portal to millions of people looking for vacation rentals. Our revenue has increased 20% since working with BookingPal. They offer a direct link into our system for guests booking thru 3rd party booking sites which provides the guest with the latest room and rate information. It also saves us time and money by not having to update inventory on a daily basis. We recommend BookingPal to any management company that is looking to increase revenue and save time."

El Matador Management Company
WIR MACHEN UNSEREN
JOB AUS LEIDENSCHAFT
Melden Sie sich zu einer 10Menütigen Demo an, um herauszufinden, wie durch BookingPal mehr Buchungen generieren